Me a few hours earlier:
"HOLY FUCKING SHIT AJBFNSDLBTHAENRFSJHBGNM DOES HE DIE IN THE END? IF HE FUCKING DIES THEN I AM NOT READING ANY MORE ... MY HEART CAN'T FUCKING TAKE IT!!!!!! BLAAAAAAAAAAAHHHHHHHH I..I....I CAN'T :'( "
Okay just finished it. The whole book just blew me away. Since I've been reading this my bed time has been at 4/5 in the morning so i'm gonna take an early night and give this the amazing 4* review it deserves when I wake up. <3
P.s- Now I want to drop every thing, pack up a few things and travel around America!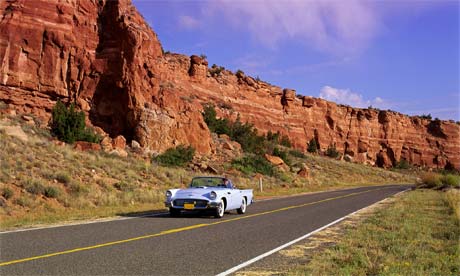 Okay, just wow. I can't stop thinking about this book now. It is easily one of the best I've ever read and if not for the authenticity that Wuthering Height's, in my opinion, has on fantastic literature, then it surely beats it. But this is contemporary and completely different so lets not go into that.
Not all great prose consist of having characters that you will love but I really did love these two: Camryn and Andrew. It was beautiful following the journey of their relationship and of their travels. It was like being on an adventure and through reading this, I feel like I have experienced every single different form of love. I don't think I've ever laughed and cried so much from a book like a I have this one. It's definitely one hell of an emotional roller coaster and through the utterly heart breaking parts when I found my self struggling to keep composure and not burst out screaming in tears, I could barely comprehend that it's all just fiction. The characters are so believable, the scenes are brought to life by the authors writing style and there is so much raw emotion. That's how realistic this book is and that's why I love it so much; because it's a possibilty.
Also, if you haven't yet read this and expect it to be YA then THINK AGAIN. This is NA stuff and I love this genre now! The sex scenes are just far too juicy and erotic for that and a lot of the themes are too complex to be light- not that I'm complaining. :) As a matter of fact, I let my friend read an extract from the 2nd sex scene and she said it's a whole lot more intense and dirty than Fifty Shades of Grey! Don't get me wrong, the book is not about sex and is incomparable to Fifty Shades however I just had to get that out there. Right now I really just want someone else who has read this, to talk about it with.
I will not give away any hints or spoilers at all because it's such an effective and exciting read that no one really needs them. I also need to mention how the author did an incredible job on not just the full thing but especially the last 1/5 of the book and it's conclusion. I couldn't have hoped for a better ending. I was on edge, excited, crazy, happy and satisfied with how it all turned out, just when we thought there was no hope! :D Beautiful story, beautiful realistic writing style and a beautiful ending. Please don't even hesitate to read this! You won't be disappointed, I assure you.
Oh yeah, and you should listen to this classic while reading TEoN.